start • Welcome!
Sunday, 5 Jan 2014
Again, a new version of the Trailer Downloader. This is just a bugfix release to address problems with newer movies. You may download the new version right here:
Friday, 31 May 2013
Again, it's been quite some time ... I've just uploaded a new version of the Trailer Downloader. Apple changed the format of the latest movies, so I had to adjust something. You may download the new version right here:
Saturday, 29 September 2012
It's been quite some time since the last update. I've been very busy with work and personal projects, and neither had the time for my homepage nor my projects here. Nevertheless, there is something I want to show you:
Yes, there is a new Dark Wars project on the horizon! While it still will take some time, you may follow its progress on Facebook. Keep in mind that some of the effect shots are incomplete in this early teaser. Have fun!
Saturday, 21 January 2012
I've just uploaded an updated version of Trailer Downloader that fixes a critical issue where the database file was not created at all. Other changes are:
fixed the error when the directory for the movie database was not created
added a right-click menu for the download links to copy the link location into the clipboard
updated the SQLite library
some small bugfixes and code cleanup
Note: importing xml files is still disabled
Download the new version
Software Informer was kind enough to inform that they put Times of Troubles on their servers. Thanks a lot!
Monday, 29 August 2011
I've just uploaded an updated version of Trailer Downloader with the following changes:
movie list is now stored within a SqLite database (no autosave.xml anymore)
option to create a folder for each including a folder.jpg file
when getting new movies the poster image of the current movie is being displayed
features that require an internet connection are now disabled when no active connection has been found
lots of small improvements and bugfixes
Note: import of xml files has been disabled in this version (this will probably return in the next version)

Download the new version
Tuesday, 9 August 2011
Almost eight years after its original release I managed to release an updated version of Times of Troubles which includes some (subtle) changes:
updated maps (especially the first one)
some new textures
one new sound file (very subtle)
updated menu background
new installer system
I did this version since I never liked some things about the original release. Most of the visible changes are in the first map which is very old and never received an overhaul. I hope some of you will play the new version and enjoy the memories :)
Download the new version
PS: The old version is still on the server since there a lot of sites that link on the file.
Sunday, 3 July 2011
"And now for something completely different ..."
Finally I've managed to release Trailer Downloader, a small application I created in my spare time in order to download videos from a famous movie trailer website. Although I've worked on it for quite some time now I still consider this version a prototype (and includes messy code). Nevertheless it does what it says on the tin (in most cases), and if you want to give it a try go ahead.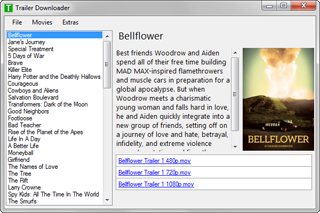 Sunday, 2 January 2011
I've just silently released a repack of E.T.F. which doesn't add any new features or anything (besides a new fancy icon for the Steam games list) but uses a brand new installer created with the powerful Inno Setup. The reason I did this was because that the old installer could lead to problems with newer versions of Windows and I also wanted to experiment with the Inno Setup script language.
I want to give Times of Troubles a similar re-release, but this will take more time since I'd like to update some of the maps. Time will tell.
Anyway, Happy New Year!
Friday, 2 April 2010
Well, I think I've postponed this update far too long. I just added another homepage I've created to the projects-page: STZ Building Technology
I'd really prefer my homepage to be more up to date, but at the moment I just don't have time. Until next time. Take care!
Friday, 24 April 2009
Veer, a stock photography company has released several short videos showcasing their latest collection of images based on the topic of Green. The reason why I'm posting this here is that they used sounds from The Freesound Project in their videos. Check out the video Ride to hear one of my recordings. The other videos are also worth watching.
Wednesday, 11 February 2009
It's time for some updates:
Wednesday, 10 December 2008
It's finally done. After four years of pre- and post-production, Dark Wars - Episode III - The Chase has finally been released. This episode completes the trilogy and is most probably the last installment of our series of Star Wars fanfilms - I hope you enjoy this one!
Monday, 12 August 2008
Behold! It's a new design. After nearly five years I finally had the time to overhaul my homepage.
I wanted to create a new and fresh design that surpasses the old one in every aspect. I hope you enjoy it as much as I do.
Every single page has been created from scratch and you will find some new content here and there. So just take your time and have a look around.